AG LAND LOANS AND INVESTMENTS
Land Loan Financing for Farmers, Ranchers and Agricultural Investors
Loans up to $3 Million
Simple, Online Application
Nationwide Availability
Fast Credit Decisions
Reduced Paperwork
APPLY WITH CONFIDENCE
HOW IT WORKS
The Acres Bank team strives to help farmers, ranchers, and ag investors achieve their financial goals by providing agricultural land loans and farm loans for land. Your dedicated point of contact will work with you to understand the type of  loan you need, identify your goals, review your investment options and create a customized solution. Get pre-qualified in 3 easy steps:
1.
Online verification
Get started by answering a few verification questions. Verified borrowers will get access to our online loan request form. This is not a credit pull and does not affect your score.
2.
Speak with us
After reviewing your loan request form, we'll call you to finalize your pre-qualification. Average response time is less than 10 minutes (Monday – Saturday, 8am – 8pm).
3.
Get pre-qualified
When you're ready, we'll work with you to gather any additional information we need to check your qualification status. Most borrower's pre-qualifications take 15 minutes or less over the phone.
Types of Land Loans or Farm Loans For Land
We understand the unique financing needs of farmers,  ranchers and investors and can provide competitive terms and rates on our short-term loans (12-24 months) and long-term loans (5-25 years). We work with government programs or our network of lending partners to ensure you get the best possible solution. We provide loans for large parcels of:
Raw Land
Farm Land
Ranch Land
Grazing Land
Wooded Property
Land for Development
Land Loans Specifications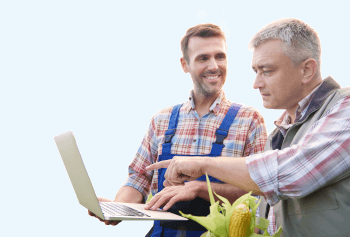 The Acres Bank Land Loan program is a great tool for financing raw land for agriculture and farming or land for development. The program is available nationwide and offers buyers and sellers the ability to close quickly with minimal paperwork. Acres Bank has a long history of providing creative, flexible financing solutions to agricultural buyers, sellers, and operators. The Acres Bank Land Loans program has been designed to provide maximum flexibility with an easy-to-use streamlined process.
Land Loan Qualification Guidelines
Maximum Loan Size:
$3 million*
States:
Nationwide availability
Collateral:
Must be the highest and best use of agriculture
Land Value Includes:
Bare or raw land value
Permanent plantings
Irrigation
Dwellings (up to $750,000)
Structural Improvements:
Structural improvements, including highly-specialized improvements, are allowed for calculating collateral (max. contributory value of 25% of the total appraised value) **
Credit Decision Speed:
One business day
Recommended Consumer Credit Score:
720 or higher
Commodities:
No restrictions
Use of Funds:
No restrictions
Applicants/Borrowers:
Must include all title holders
Possible Reasons for Rejection:
Consumer credit scores below 720
Stated financial ratios outside published Farmer Mac underwriting standards
Assets not involved in farming or food, fuel, or fiber production
Borrowers have existing loan with Farmer Mac rated OAEM or substandard
Borrowers have been 90+ days delinquent on a loan with Farmer Mac within last 5 years
*Land Loans above $1.5 Million will require two years of tax returns on all applicants for income verification purposes.
** For full list of eligible improvements, review the eFarmerMac.com Resource Library and Seller Service Guide on May 10.
Have questions about Ag Land Loans or Farm Loans for land?